Customer is the key to success for any industry – whether it's B2B or B2C business. No business can exist without the support and encouragement from its patrons. However, it's not an easy task to approach our consumers correctly, not to mention supporting and nurturing them. When it comes to small-sized businesses, tight budgets make leaders hesitate to invest in Customer Support. 
If you are a customer, you know so well the hard feelings when we struggle in using products or services, but having no assistance at all. As a member of Customer Success at BraveBits – where we centralize customer's achievement in business as our goal, Maru understands why a traditional, hard-to-operate but full-of-potential channel like Customer support can play a critical role in PageFly's success. Now, let's open the mystery, shall we?
Why can Customer Support have such a big impact?
As a direct connection between company and customer, Customer Support can directly affect both provider and consumer. Top-notch support services can help business owners to regain customer acquisition cost, and convert it into loyalty that can bring back new customers or evidence for products/ services quality.
But it's not just bare words – here are 5 data-backed reasons that make Customer Support essential, based on notable institutes' researches of thousands of real-life customers.
It costs less to keep an existing customer than to seek a new one
Research from Hubspot shows that companies with limited investment in Customer Support and Customer Service as a whole will face an extreme cost of customer acquisition. The reason behind this is that Customer Support can help reduce the bounce rate where customers leave the products/ services after a short time of usage. Thus, the cost needed to acquire new customers will decrease.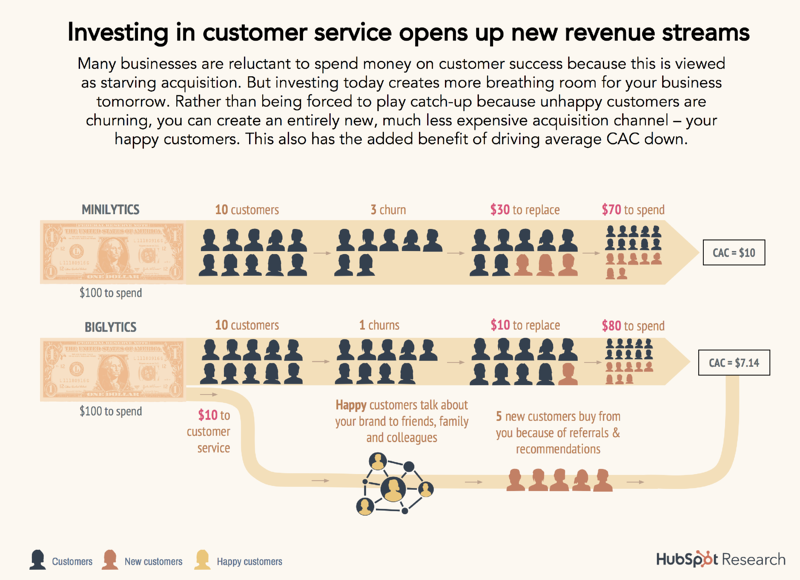 Despite extreme costs, new customers are in fact not a key factor in a company's revenue. Small Business Trends's research witnesses that 65% of revenue comes from existing customers. More than that, Customer Thermometer even proves that 80% of revenue forecasts are created by 20% of existing customers. Now, if you are a business owner, will you ignore this notable revenue?
Customers will prioritize products/ services with high-ranked Customer Support service
The sad truth is, customers are no longer trusting business like in the 90s – fake news and information leaking issues are the main reason that causes customers to fall back on friends, family, and acquaintances rather than companies' advice. It's not easy to build a friendly and trustworthy Customer Support service, but a huge number of customers are willing to pay more for such service.
SuperOffice has researched customers' demand for high-quality services in business, and it turns out that 40% of customers decide to pay more after receiving top-notch personalized customer experience. For businesses that can offer exclusive customer experience, customers are willing to pay up to 140% more and can be loyal for up to 6 years. By contrast, 59% of customers will switch to a competitive brand if they receive poor experience in using products/ services.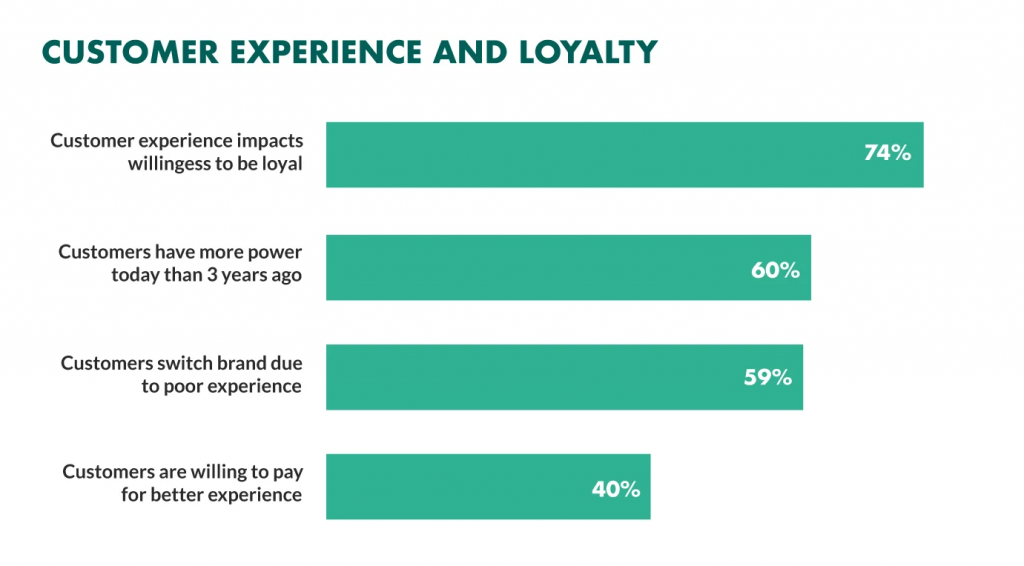 Customer Support is an information-rich channel to seek customers' insight
Aside from revenue benefits, Customer Support can help brands in building their development plan, based on rich customers' insight about their behaviors and market demand. In some cases, customers' perspective about the company is completely different from the company's perspective, that's why it's critical to understand real-life experiences from our consumers. 
What are customers searching for? What are they expecting from our products/ services? Which parts of our products/ services are preventing their satisfaction? We can find the answers to these questions via market research and so on, but there won't be any channels that are faster and more direct than questioning our very customers while supporting them. Sometimes, you can be pretty surprised by the contrast between their answers and the answers you have in your mind.
Based on our realistic insight, we can build a personalized journey for our customers. Just to remind you, TrustPilot proves that personalized experiences can increase our conversion by 8%.
High-ranked Customer Support can boost brand image
From another perspective, Customer Support team is the face of our company. Customers don't communicate directly with the development team, design team, or even marketing team – they talk to Customer Support agents. To our customers, the attitude, speech, and behavior of our Customer Support agents represent the value our company is following.
The way our Customer Support team treats our customers can decide their next behavior – whether becoming a loyal customer or turning to our competitors. SalesForce Research shows that 89% of customers will continue to support brands where they receive exclusive support. On the other hand, if they receive poor experience, 61% of them will turn back on our brand, based on Exploding Topics research.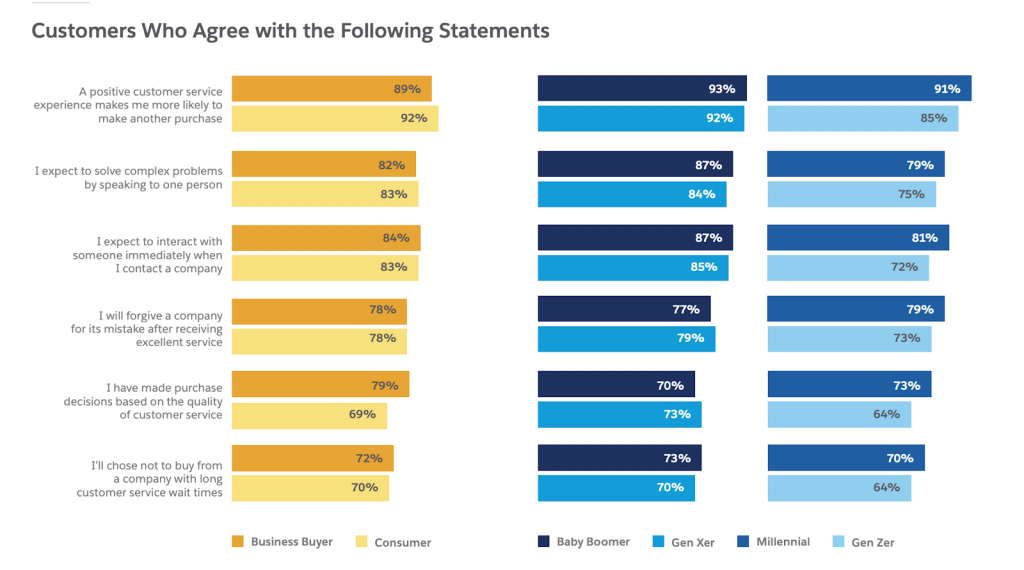 Customer Support has the power to restore customer loyalty after company's mistake
An individual's mistake can be severe, but a company's mistake is a disaster, especially when it comes to the weight of word-of-mouth. With diverse choices from the open market, customers have no hesitation to switch brands after a terrible experience. To be more precise, Qualtrics XM Institute says that once a company is marked as "terrible", once a mistake happened from their side, only 1 out of 5 customers will forgive them.
However, there is a notable difference when it comes to brands that are marked with "exceptional customer experience". In that case, up to 80% of customers are willing to accept their mistakes, forgive them and stay loyal to the brands.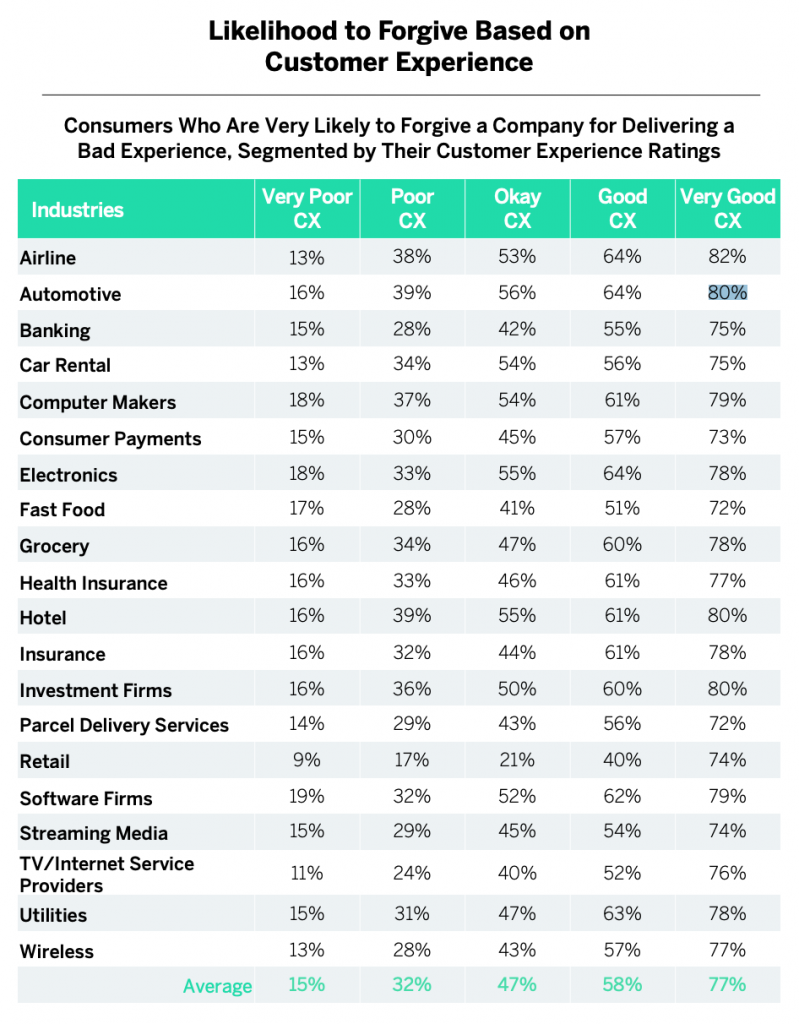 These are all data-backed facts, but I think it's still not enough to visualize the importance of Customer Support. In that case, why don't we take a peek at the familiar brands that are all-star in Customer Experience?
How Customer Support builds a successful business
HubSpot
HubSpot is a familiar website for anyone working in B2B industry. Aside from rich utilities, trustworthy sources of information about ecommerce, Hubspot is also famous for offering exceptional customer experience. They provide a chatbot that can link users to an information library of related blogs, and videos, or connect them to a suitable Support team. If chatting is not enough? Hubspot Support team will always be ready for an international call.
Even as new users, customers can always find the information they are seeking for, as well as reach out to any available resources. With the ability to assist customers 24/7, Hubspot has proven their success from customer experience.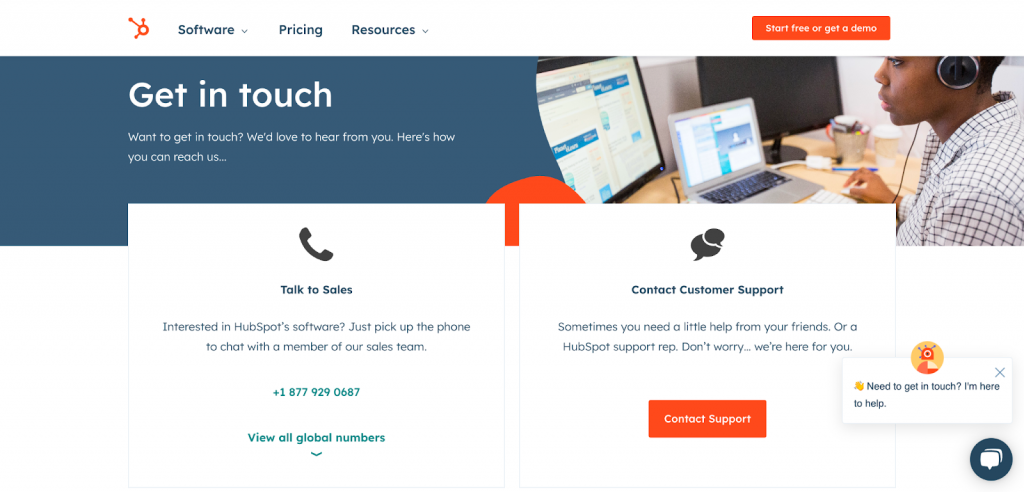 ING
ING is a well-known bank that allows customers to do transactions from anywhere in the world. Keeping its worldwide nature in mind, the bank provides a one-of-a-kind customer experience. Customers can reach out to support teams in a variety of languages. Support teams can also get real-time updates on consumer issues.
The organization also provides omnichannel support, which means that a conversation can begin on one platform and continue on another. As a result, if a customer encounters difficulty with the app version, they can switch to the online version without losing their support chat data.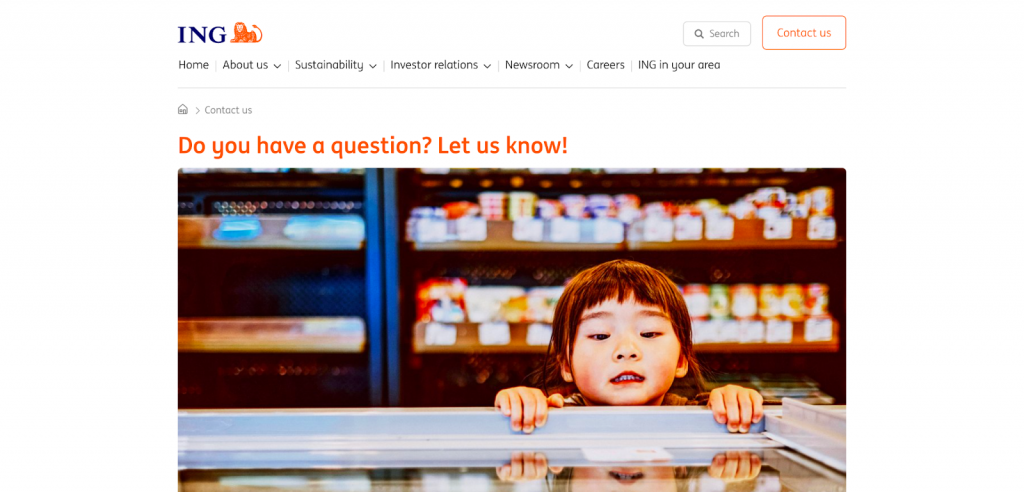 PageFly
As a top Shopify app focused on page building, PageFly always prioritizes a global Support team with exceptional skills, with an aim of providing personalized customer experience. PageFly's support goal is to assist customers from all places and times, thus running online 24/7 all around the year, even during holiday season, to make sure customers will always get the answer they need within 5 minutes.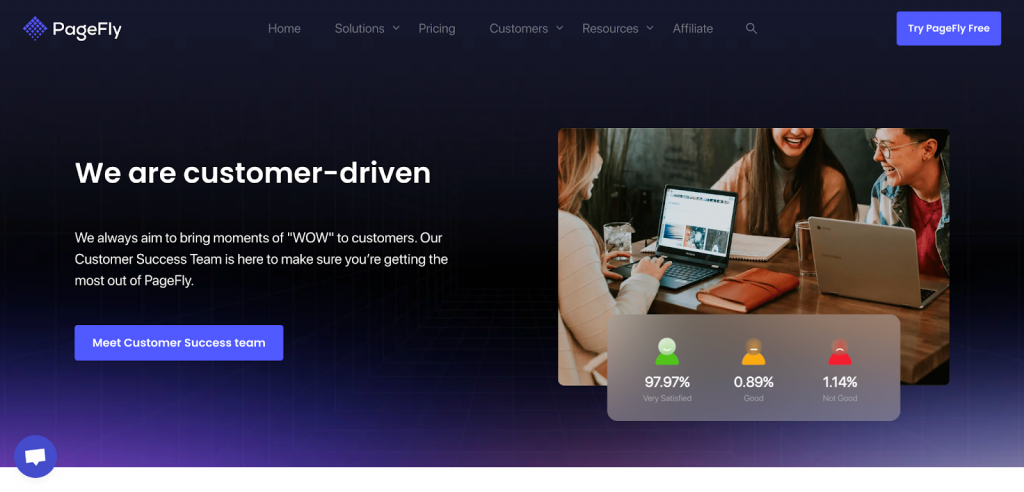 Aside from this, PageFly also provides other utilities to make sure customers can maintain and improve their business, through resources from Help Center, Guide, Video, and even Webinar. There's no way PageFly can get 4.9 rating with 6000+ reviews on Shopify App Store without placing customers as centric.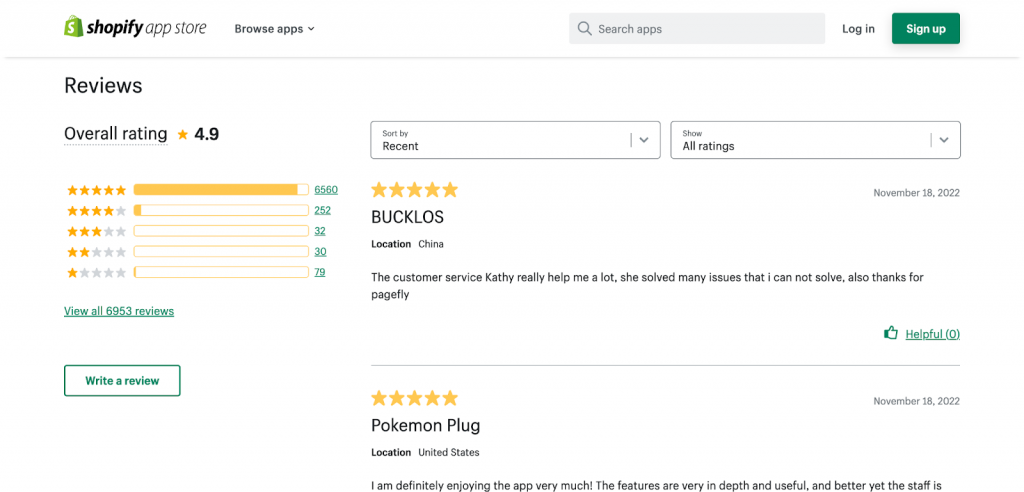 More than just a service
Customer Support is not just a service for users, it's an art of approaching customers – there's a reason why it's called "an art of communication". Customer Support can help you understand who you are focusing on, thus improving a strong bond from people to people, from company to customers. Every company should proactively find a suitable method and strategies to assist their customers and make sure their experience is well-personalized. Customer satisfaction is definitely one of the critical metrics in business's success.
Comments